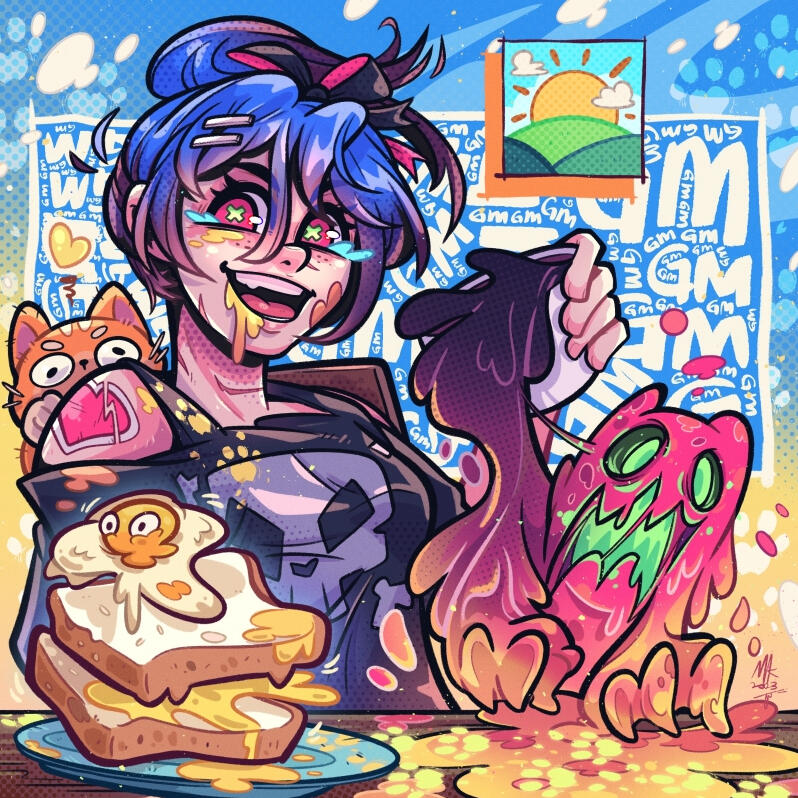 M

IKSKETCHED

Digital illustrator
T

erms of Service
I. GENERAL TERMS
The Artist reserves the right to refuse a commission request without explanation.

The Artist reserves the right to cancel and refund a commission at any time, with prior notification to the commissioner, either due to poor communication, inappropriate behavior, or any kind of abuse.

The Artist reserves all rights to the work unless a purchase of the Copyrights is agreed upon between the Artist and Client.
II. PROCESS
Wait for me to send you a PayPal invoice.

When the payment is made, I'll start working on the rough sketch.

I'll show the sketch for approval and changes.

After the sketch has been approved, I will no longer do overhauls.

The inking and coloring process will start after sketch approval.

High-resolution image file (.png) and a smaller version for internet upload of the artwork will be sent to you after the work is completed. Original source files won't be provided.
III. REVISIONS
Client can ask for small changes about coloring after Client receive the final piece.

If Client decide they want something significantly or completely different, like a pose or character change resulting in the Artist having to start over, these kinds of revisions are subject to an additional fee.

Revisions made after final files have been approved and sent to the Client are an additional charge of $5 per revision.
IV. USE
PERSONAL USE only. Any commercial usage, claiming, or reproduction are not permitted. If Client want to use it for commercial (ex:.merchandise, video game characters, book covers, advertising posters, logos), please contact the Artist first.

Emotes and sub badges may be used for their intended purpose on Twitch.TV, but may not be made into merchandise or other commercial products without permission.

The Artist reserves all rights for the images created, which also means the right to display all commissioned works on any website or gallery. For anything else, the Artist will ask Client's permission.

The Client may re-post the commissioned work, but must give proper credit.

The Client may use the full resolution version to print out for themselves, but the Client cannot redistribute that version.
V. PAYMENT
All prices and payments are in USD.

Full payment upfront. Wait for me to send you the PayPal invoice.

Partial payment is available for commission over USD$50. 50% upfront and the rest upon completion of the commission.
VI. REFUNDS
Only if Client cancels before Artist starts working.

No refunds after commission is completed and approved.

If there are personal reasons the Artist cannot start the commission (such as illness, broken equipment or other circumstances that prevent Artist from working), the Artist will give a full refund.
PERSONAL USE only.
Listed prices are base prices and can vary depending on the details of the commission.
INKED / LINEART
| BODY | PRICE |
| --- | --- |
| Shoulders-up | $15 |
| Waist-up | $20 |
| Full-body | $25 |
COLORED & SHADED
| BODY | PRICE |
| --- | --- |
| Shoulders-up | $40 |
| Waist-up | $45 |
| Full-body | $60 |
INKED / LINEART
| BODY | PRICE |
| --- | --- |
| Shoulders-up | $10 |
| Waist-up | $15 |
| Full-body | $20 |
COLORED & SHADED
| BODY | PRICE |
| --- | --- |
| Shoulders-up | $20 |
| Waist-up | $25 - $30 |
| Full-body | $35 - $40 |
Base price: $50
Characters in a specific scene. Extra details on background. Please contact me for price quote.
| | |
| --- | --- |
| PNG (TRANSPARENT) | FREE |
| ONE FLAT COLOR | FREE |
| SIMPLE SCENERY | $10 + |
| PROP / ACCESSORY | $5 + |
Normal style: Regular body features - thinner lineart, normal sized eyes, more details on the hair, clothes.

Chibi style: Cutesy features - big head, eyes, simplified hair, child-like body.

Animal/non-human: Cartoon animals/creatures. Can be anthro.
Emotes/Icons: Small res (500x500 px max), low-detailed art for emotes (Twitch/Discord/etc), profile picture/forum avatar. Shoulders-up/bust.

Illustrations : Your character(s) in a specific scene. Basically character + BG. (Character + BG).
I can do:
Cartoony / anime-ish style
Animal / Creature / Anthro
People (fan arts/OC)
Simple backgrounds/scenery
(SFW arts only)
I cannot do:
(Stuff I'm not good at)
Other artists' style
Gore / NSFW / Political
Animation / gifs
Graphic design / Text
---
h

ow to order

Please include the following info in your order:
INTENDED USE; Private / Personal / Commercial

TYPE; lineart / colored & shaded

STYLE; normal / chibi / emote / illustration

BODY; head only (icon) / shoulders-up / waist-up / full body

CHARACTERS/BG REFS; upload to any image hosting site. Then copy and paste the direct links here. Direct links end in JPG or PNG.

FILE SIZE: size in px that you'd like the final rendered files to be, or file size required for intended use.

OTHER: anything you'd like me to know (pose / expression / etc).
---
After I receive the details, I will contact you with the price quote.

Once confirmed, I will send you the PayPal invoice.

I will start working once payment is made.
Please provide pictures for reference; if you don't have any, please give a short description with example pictures (like for hair / outfit / etc.
NOTE: My turnaround time is 2 to 3 weeks.
---